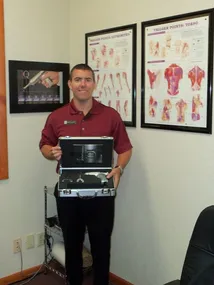 We are proud to have the Computerized iQ Instrument® in our office.
The unique functionality of the Impulse iQ® Adjusting Instrument shines with simplicity. It is applied to the dysfunctional area and the instrument thrusts at the ideal frequency to maximize motion while changing frequencies in real-time congruently as motion improves. Impulse iQ® has patented Auto-Sense® technology that senses when mobility is maximized ceasing the adjustment, and provides feedback of the patient's response to the adjustment.
The multiple thrusts of the IQ move 100X faster than the hand can, this motions the bones gently and prevents the muscles from tightening up. This makes a 5 minute adjustment with the IQ have a similar effect on the muscles as a 45 minute massage would as it reduces and eliminates nerve irritation that is the cause of pain. For more information click here to watch a video on the Impulse iQ® Instrument.

The Impulse iQ® Adjusting Instrument is also used to treat extremities like an aching knee, shoulder, elbow, or ankle pain.